About Us
All Natural Beauty Tips: For Best Results Use Daily
~Attractive Lips: For attractive lips, speak only kind words. "My lips shall not speak wickedness, nor my tongue utter deceit." Job 27:4
~Beautiful Eyes: For beautiful eyes, look for the good. If you look for the good, it'll reflect back on you. "Remember the worth of souls is great in the sight of God." D&C 18:10
~Proper Rest: Sweet dreams bring beautiful tomorrows! "Cease to sleep longer than is needful; retired to thy bed early that ye may not be weary; arise early, that your bodies and your minds may be invigorated." D&C 88:124
~Daily Cleansing: A daily program of cleansing helps eliminate blemishes. Daily Cleansing keeps your skin beautiful and helps to eliminate blemishes. Daily Repentance and committment to keep the commandments, keeps you free from the blemish of sin. "Wash me thoroughly from mine iniquity and cleanse me from sin." Psalms 51:2
~Drink Plenty of Water: Pure water cleanses the body. The well of living water purifies the soul. Drink freely from the well of water that leads to eternal life. "But the water that I shall give him shall be in him a well of water springing up into everlasting life." John 4:14
~Good Posture: Stand Tall, you are a Daughter of God. Walk with knowledge that you'll never walk alone. "Do not fear, for I the Lord am with you, and will stand by you..." D&C 68:6

Saturday, June 30, 2012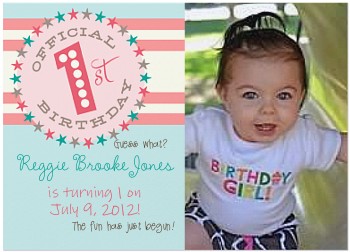 Officially One Birthday Invitation

Posted by

kay
at 6/30/2012 05:57:00 PM
No comments:

Weight:
17.6 pounds
Diaper Size
:3
Clothing Size: Mostly 12 month and almost completely out of 9 month clothing
Number of Teeth: still her 2 bottom ones, her top 4 are bulging but no white so it will be awhile.
Favorite Foods: TOAST!! She loves toast! She gets it every day for breakfast. She also likes bologna, mashed potatoes and just about anything that we eat that we give her.
Favorite Snacks: crackers, we give her the Ritz Hint of Salt ones.
Bath time: She can really get her leg up out of the tub to try to get out but not enough to come close to hopping out.
Favorite Books: Any of them. She likes to point at the pictures and hear us say what the object is.
Latest Tricks:
Hugs: She has starting giving hugs withOUT pulling my hair! I love it! She's also getting better at giving kisses too! Little slobbery though.
The Little Details~ She loves to play in the cupboards under the sink in the bathroom and pull everything out!
~ Likes to crawl on everything.
~ Entertains herself very easily.
~ She goes to daycare at the gym without a problem and is always so good for the caretakers.
~ She yells/screams at us. Sometimes it's like, "Mom, where are you? Come here." Other times it's, "Hey, why did you do that? I am so not happy with you right now."
~ She smacks the table with her hand when she's being sassy. She'll throw stuff too. She's starting to get a little attitude. It's too soon! :)
Rocky's grandparents
Eating treats on the Lovesac
Climbing stairs
Just got out of the tub and doesn't want to get ready for bed
Climbing on everything
Yelling
Walking around and making messes
I am tired and have had enough!
Posted by

kay
at 6/30/2012 05:54:00 PM
No comments:

Diaper Size:3
Clothing Size: Mostly 12 M clothing with a few 6-9 M things
Number of Teeth: 2 - bottom; her top 2 are SLOWLY coming in
Favorite Foods: Chicken & Mixed Veggies, Beef & Mixed Veggies, Rice & Pears
Favorite Snacks: Gerber Garden Tomato & Veggie Garden cheetos
Bath time: She tries to get out of the tub. When we go to wash her off, she doesn't like to lay down and kick like before. She tries to hold her head up out of the water.
Favorite Books: Doesn't really seem to have a favorite these days. She likes to flip the pages.
Latest Tricks:
Going down the stairs: Yup, we taught her how to go down the stairs on her tummy so she doesn't fall down them. It's really funny because sometimes she'll go down on her belly several feet away and crawl backwards towards the stairs. Usually she's at an angle and she's ran into the washer/walls. She'll get stopped there, readjust and run into the opposite wall, then readjust again. It's so funny when she does this!
WALKING!!!: Two days before she turned 11 months, she started walking! She didn't struggle much with it either. It basically went from taking 2 steps between furniture pieces to full on walking from one side of the room to the other. She just seems too tiny to be able to walk already but she's quite independent and wants to keep up with us. She's adorable to watch!

The Little Details
~ She is such a happy and calm baby. She smiles so much now. People are just amazed at how laid-back she is.
~ She points, especially at her dad because he'll do the same to her.
~ She pulls herself onto our Lovesac "bean" bag and then climbs onto the either the loveseat or lounger on either side of it. She'll even jump onto the sac from the couch. She can be very daring sometimes.
Time is just flying! I can't keep up! We just love her so much!
Posted by

kay
at 6/30/2012 05:29:00 PM
No comments:

Tuesday, June 19, 2012
Father's Day - June 17, 2012
This year we got to celebrate my first official Mother's Day and Rocky's first official Father's Day! We weren't able to much other than spend time together and go out for dinner to celebrate these days. However, pretty sure I got treated the most for Rocky's Father's Day since he took me shopping. :) He picked the restaurant, BJ's Brewhouse! So Good! Their Pizookie [it's a cookie (lots of flavors to choose from) with ice cream] was so yummy! We got half chocolate chip, half white chocolate chip. Next time, all white chocolate chip.
Anyways, got off on a tangent there, it's crazy to believe that these days, Mother's Day and Father's Day, have already came and went. While watching Reggie grow, learn, and show her little personality more and more is so fun, I wish I could just slow down the time just a little so I could keep up. Even though I have gazillions of pictures, I still don't feel like I take enough and always wish I could/would take more to capture all of Reggie's moments! She is the best thing ever and we're so thankful for her!
I'm thankful for our mothers and fathers and all they've done and continue to do for us! We have fantastic parents - that's all there is to it!
I'm so thankful for how wonderful a dad Rocky is to Reggie! It's so unexplainable how happy it makes me to watch them interact with each other! It's just adorable! My life is absolutely amazing because of these two!
I'm so thankful for the opportunity Heavenly Father has given me to be a mother! I can't explain the immense joy Reggie brings me! She has changed my life so much and I wouldn't have it any other way! Even though I'm exhausted majority of the time and look it, as hard as I try to hide that, all the time and energy spent with her is 100% worth it. I'm so grateful for my job that allows me to work at home so in turn I get to spend the day with Reggie! Even though my job can be very trying sometimes, it has been an outstanding blessing for our family! I need to remember how truly blessed I am more often because it proves that everything else is doable and life is wonderful!
I love my little family so much and I am so thankful to be sealed to them forever! Pure Joy!
Father's Day - June 17, 2012
Mother's Day - May 13, 2012
Posted by

kay
at 6/19/2012 12:21:00 AM
No comments: